A few days ago I spent an hour searching online for a Mainstage template for my Novation Impulse keyboard controller and couldn't find one anywhere. So, I got busy and made one from scratch. I'm going to share it here in hopes that someone can make good use of it. Here's what I came up with: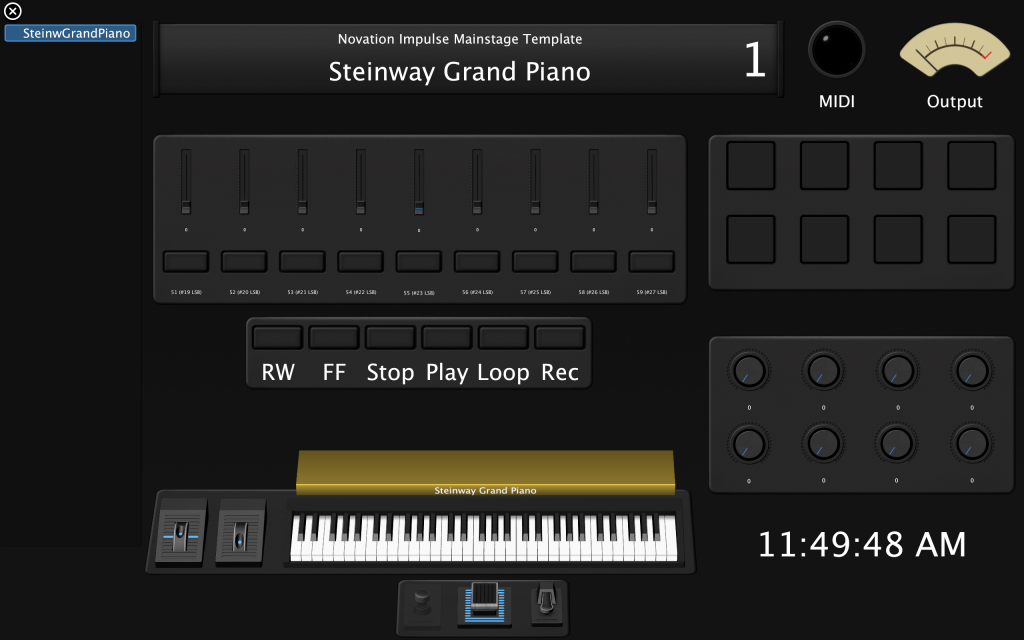 Every knob, slider, or button on the Impulse that actually sends MIDI data is represented here. There are several more buttons on the keyboard itself, but they are for controlling the keyboard and aren't linked to any MIDI channels, so there was no reason to put them on this template. The only thing extra is a foot switch to the left of the expression pedal. This is for my own use with my rig, but you can find ways to use it I'm sure, although it will require another device (Nord Electro for me).
I've included a MIDI in light, as well as a VU Meter attached to the main output. Also, since I had some free space in the lower right hand corner, I included the time so you have no excuses when you say "Do we have time for one more song?" No, you don't. The answer is always no.
There wasn't really enough screen real estate to make this look visually the same as the front panel of the controller without making things way too small. I thought spreading things out like this makes sense. If you come up with a better solution, send it to me so I can see what you did. Also, this is obvious but this would make a great starting point for any controller, whether it's an Impulse or not. If you modify it for another device, share the link here!
You can download the file here:
Novation Impulse Mainstage Template.concert
This is my first time sharing a file in my blog, so let me know if it doesn't work for some reason. And, obviously, you'll need Mainstage (specifically Mainstage 3) to use this template.
Good luck!
Mason